AEL Oil price update April 2008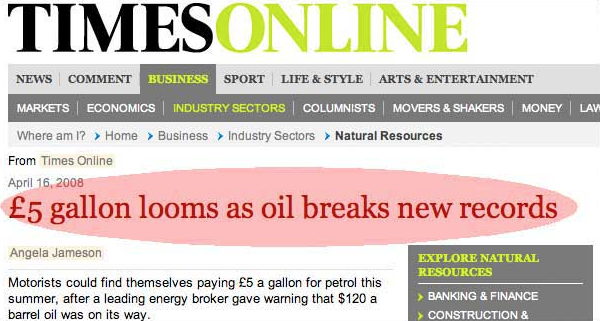 World oil prices increases this year have continued unabated. Every day headlines, such as the one above, are commonplace. At AEL we are actutely aware of the distress and financial pain this causes. We can assure you that we are doing everything possible to contain price increases to the minimum necessary to recover the huge increase in costs we are having to bear.
By way of comparison, on 17 April 2008, our heating oil price of 59.75p compared with prices on the mainland of between 56p and 60p per litre and with Guernsey prices of 56.85p. Given the high cost of getting it to the island we believe this is highly competitive.
On 17 April the cost of diesel used in generating electricity was exactly 70% higher than a year ago. Diesel costs represent over half of all the company's costs and so it is inevitable that the fuel cost component (FCC) of electricity bills will also be rising to reflect that change. The sums are large, the largest delivery of oil cost the Company £632,000 the equivalent January cost £471,000.
From 30 April 2008 the FCC will be 14.95p. This compares with 9.4p a year ago – a rise of 59%. Given the extreme volatility of the market at the moment the Fuel Cost Component is being adjusted up or down at the end of each month to reflect the latest price of oil as published by Platts which is the basis for the price charged to AEL. The FCC so derived will be used in calculating bills sent out in that month. The price for heating oil will be adjusted up or down each Monday in the same way and will be applied to deliveries that week. We believe this method is the fairest and simplest way to deal with a complex and fast moving situation.
If you have any queries about your bill or are having difficulties paying it, the staff at AEL will be pleased to discuss the matter with you.